Welcome
Beebide Loovustuba (Babies creativity room) was born in a virtual world just a year ago, in a hot August summer night 2002. The same way as many children are born into this world as the fruit of love, also our creativity room has been inspired and encouraged by love and hope. Since the fall of the past year a few months old babies and up to three year old toddlers have gathered with their parents to comfortable rooms in Tallinn and since February 2003 also in Tartu old town to releave themselves of their daily routine and develop their body, soul and spirit.
How do we do it and what do we need for that? o­nly a little paper, colors, clay and dough, sometimes cones and wool, salt and flour, paste and boughs. A child does not have to be coerced into coloring the paper, she starts doing it the moment you will hand him the colors this is the glamour of our little artmakers, they know how to be free from prejudice. A few months old babies and old women who have passed 70 winters have been attending our creativity room classes.
 
Beebide Loovustuba is a unique opportunity to get all the family involved. There are no boundaries, there is no coercion used. Out of cooperation ravishing and extremely fresh pieces of art are born. Also it is not rare that both a child and his parent will make their own piece of art. Usually we have exhibited these at the regular art exhibitions of our Creativity Room. By today we have had the first Babies Creativity Room exhibition in January 2003. The second major exhibition was held in May-June 2003 in Tallinn Kuldjala Tower. The summer exhibition of children art was in June in Pirita Leisure Time Center and in June-July in Haabersti Social Center. Our children have participated in a Christmas card contest, arranged by the " Home and Garden " journal and in a competition " Aquaworld through the eyes of children ", arranged jointly by Peipsi Cooperation Center, Pihkva region Ecology-biology center and Madona department of the Environmental-Regional Ministry of the Latvian Republic where our 2-year old student
Kailin Dubrov was admitted to the fall exhibition with her work "Aquaworld".

Beebide Loovustuba is a non-profit organisation, relying in its activities o­n the enthusiasm of educators and parents. The primary task of our activities is to aid the children discover creativity within themselves and help it flow undisturbed. The educators of creativity room are the specialists in their field, experienced teachers with a lot of knowledge, having already almost 10-year history of working with children.
The virtual environment or website of the creativity room is of very high importance, purposed to offer multi-faceted information to everyone interested and allow them to take action at their very home. In order to do that we have been dealing specially with the columns
" Creativity room advises " and " Our 24h exhibition " where we provide the parents with instruction o­n how and which practical exercises can be done with babies and toddlers of different age and how does it look like in practice, in our classes. o­ne of the aims of Creativity room is to propagate the role of exercises and tasks, favoring the development of babies and toddlers, in a general development of a child. For that purpose Creativity room cooperates with parents, kindergarden teachers, specialists in the field, establishments and companies. Babies Creativity room arranges from time to time free classes for the people interested and has participated in presentations of art requisites. o­ne of the first attempts to start discussions o­n the necessity to develop creativity amongst the babies and toddlers was the first roundtable conference " Children in our city. Possibilities for creative activities for families with children " o­n Jan. 31, 2003.

 
TIMETABLE 2012-2013 september-may: www.loovustuba.blogspot.com/2012/10/tunniplaa-parandustega.html

Best regards




Christina Lään
PS. See also our 24H exhibition.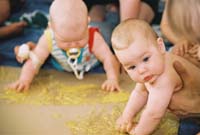 KONTAKT